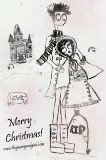 Merry Christmas Everyone!,
I hope you all have a spooktastical holiday! I've decided to keep the Christmas specials in my shop running till January. So, even if you're all finished with your shopping, check out the great deals on my products!
www.thegraveyardgirls.etsy.com
Stuffing Stuffer Bags - $4
(this includes, 2 buttons, stickers, magnets, a bow or necklace)
Isabell
Doll & Book Set -$15
(Normal price for doll $15, Normal price for book $6)
Purses and Hats have all been marked down as well!
Hmmmm what else can i tell you? Oh! I uploaded alllllll of the christmas cartoons to my new website (finnally) Be sure CLICK HERE and give them a look!
Life's more fun in the graveyard